Tenants
Why choose Norwich Accommodation Agency?
Longest running letting agency in Norwich, established in 1985
Long term, experienced and conscientious staff who have a practical knowledge of properties
Members of The National Approved Letting Scheme who have a strict code of conduct for services provided by member agents and the standard of their accommodation
Efficient maintenance service at your disposal throughout the term of your tenancy
Specialist knowledge and experience of property law, safety regulations and new legislation enabling us to liaise between landlord and tenant to ensure you have a smooth running tenancy
Our office is easy to contact 52 weeks a year
Tenant Payments in Addition to Rent from 1st June 2019
Holding Deposit
Equal to one week's rent.
Tenancy Deposit
Equal to five weeks' rent.
Default Fees
Late payment of rent: 3% above the Bank of England's base rate for each day the payment is outstanding.
Lost keys: reasonable costs – a supplier invoice/receipt will be issued.
Examples of costs:
Standard key.................... £3.00 to £10.00
Specialist key................. £10.00 to £20.00
Door fob.......................... £30.00 to £50.00
Damages Payments
A remedy for breach of contract to cover and contractual breach which is not expressly covered by a default provision for late payment of rent or for replacing lost keys/security devices.
Change of Sharer
A change of sharer will be permitted if there is sufficient time left in the contract and at the discretion of the landlord.
A minimum fee of £50.00 or reasonable costs. Costs may exceed £50.00, for example, if there are more than 3 tenants and/or guarantors to cover our time for sending and retrieving signed contracts from all parties and the administration for dealing with the releasing and re-lodging of the deposit.
Changes to the Tenancy Agreement
A request to change a term of the tenancy agreement after it has been entered into, if agreed by all parties, will be charged at £50.00.
Early Termination
The maximum will be the remaining rent due under the terms of the tenancy agreement. If we are able to relet the property during the term of the tenancy agreement we will charge (if less than the rent due to the end of the tenancy):
Rent to the day the new tenancy starts although we will need vacant possession of the property 10 days prior to the new tenancy to check/update the schedule of condition and prepare the property for the new tenants and
The landlord's fees for reletting £384 to £564 (see Landlord Charges).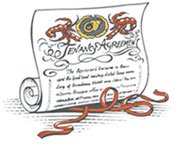 Are you a Tenant?
Search for Properties
We are members of:
The National Approved Letting Scheme

The Eastern Landlords' Association

The Property Redress Scheme

The Deposit Protection Service

The Tenancy Deposit Scheme (The Dispute Service)

Client Money Protection
Tenant Privacy Policy