Services for Landlords
Norwich Accommodation Agency was established in 1985 and we are now the longest running letting agency in Norwich. We have a wide range of specialist skills and experience in property management, allowing us to provide a comprehensive and professional client centred service. 100% of our time is devoted to letting and managing residential properties in and around Norwich.
We offer two services for landlords:
Tenant Introduction Service
Advertising and marketing.

Accompanied viewings.

Interviewing prospective tenants.

Collecting character and employment references and confirmation of earnings. Depending on the tenant's income we may also ask for a guarantor.

Credit checks.

Instructing tenants on connection of services.

Preparing tenancy agreements.

Collecting the first month's rent.

Taking a deposit from the tenant to be passed on to the Deposit Protection Service (DPS).
The first month's rent and deposit are payable to Norwich Accommodation Agency upon completion of the agreements. Payment is then forwarded to the landlord together with the references and tenancy agreement.
Full Management Service
Your rental property or portfolio is likely to be one of your most valuable investments and should be managed properly to avoid unnecessary expenditure from choosing the wrong tenants or lengthy void periods from poor marketing. We have long term, experienced and conscientious staff who have a practical knowledge of properties. We will always act in your best interests and we will look after your investment.
In addition to points 1 to 7 under the Tenant Introduction Service, Full Management includes:
Taking a deposit from the tenant to be held by us as stakeholder until the end of the tenancy when the property and the contents have been checked for unfair wear and tear.

Collecting the rent monthly and paying the landlord less any fees or expenses due for that period

Interim inspections to check the tenant is looking after the property and to check the condition of the property and report any repairs.

Supervising estimates, maintenance, repairs and servicing of gas and electrical appliances and settling accounts from rents received.

Regular review of rents.

Serving notices, where necessary, to increase the rent or to end the tenancy.

Advice on purchasing suitable properties for letting.
We subscribe to a company called Training for Professionals for our tenancy agreements. TFP are one of the country's leading training companies and providers of legal documents for the lettings industry. They regularly update their agreements and legal notices to reflect the law and recent court cases. By paying an annual subscription to TFP we receive regular updates so our tenancy agreements are always current.
Monthly payments are made to the landlord, upon receipt of the rent, to a bank or building society account. A monthly statement is sent to the landlord if there is a change of tenancy or any bills to be deducted. 6 monthly or yearly summary statements can be sent at no extra cost.
Repairs and maintenance can either be completed by trades-people you have nominated or our professional contractors. In either case we can organise the work and make arrangements for access to the property at a time to suit the tenant. Each tenant will be provided with a list of contractors (providing 24 hour service) to be contacted in the event of an emergency outside office hours.
We retain a deposit to safeguard against minor breach of contract by the tenant. An inspection will be completed at the end of each tenancy and any expenses incurred by the tenant for damage or cleaning will be deducted from the deposit.
Under Full Management the only additional fee is for compiling and checking the schedule of condition and inventory. The schedule of condition will include a disc of high quality photographs of all internal fixtures, fittings and surfaces in the house. Copies of the schedule and disc will be signed and retained by us and the tenants. The fee for the schedule of condition will apply once at the beginning of management and once on each change of tenancy.
Other Information
Marketing
Your property will be advertised on Rightmove with professional internal and external photographs. We have links from our website to pages on Rightmove displaying only our properties, so once Rightmove is updated our website is too. Rightmove provide their agents with weekly competitor analysis reports showing statistics for 'New Listings', 'Available Stock', 'Time on Rightmove' and 'Click Through Rates'.
The most relevant statistics are the last two: how long on average a property is advertised on Rightmove and average click through rates. Average click through rates are calculated from the comparison between summary views and detailed views and will increase if properties are well presented. Increased traffic to detailed views increases leads and viewings.
We have Rightmove reports dating back to 2010 and we have consistently performed better than any other agent in Norwich for these last two statistics.
None of our time is wasted on To Let boards, window displays or newspaper advertising because they do not benefit our clients.
Many companies have a large stock of poorly presented or over-priced properties and place more emphasis on the profile of their company and advertising for new clients rather than looking after their existing clients. We are one of the largest letting agents in Norwich but only ever have a limited stock of available properties because we let quickly. We also recognise that by looking after our customers the success of the company will take care of itself. Customer service for landlords and tenants is therefore our top priority.
Income Tax For Non-Resident Landlords
A landlord is considered non-resident if he/she lives abroad for 6 months or more throughout the course of a year. We recommend that a non-resident landlord appoints an accountant to deal with their tax affairs and assessments to ensure they take full advantage of the allowances available. Under Full Management we will provide you or your accountant with annual statements at no extra cost.
Letting agents acting for non-resident landlords must deduct income tax from their UK rental income unless the agent has received instructions from HMRC that the landlord may receive their rent with no tax deducted. An application form (NRL1) to receive UK rental income without deduction of UK tax is available from the HMRC website.
Landlord Charges (All inc. VAT)
Tenant Introduction Service:
100% of the first month's rent
Full Management Service:
13.2% of the rent monthly throughout the management period
Schedule of Condition & Inventory (Full Management only):
Preparation of a written schedule of condition to include a disc of high quality photographs of all surfaces, fixtures, fittings and contents. Payable once at the start of management for compilation and once on each change of tenancy for checking/updating.
£144.00 to £204.00 depending on the size of the property & inventory
Set-Up Fee (Full Management only):
£240.00 up to 2 tenants
£300.00 3 tenants
£360.00 4 or more tenants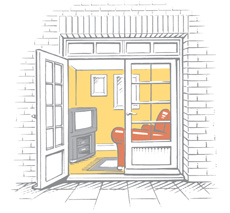 We are members of:
The National Approved Letting Scheme

The Eastern Landlords' Association

The Property Redress Scheme

The Deposit Protection Service

The Tenancy Deposit Scheme (The Dispute Service)

Client Money Protection
Landlord Privacy Policy